Our food and wine editor makes her annual picks.
After another year of dining, drinking and dining some more—springing out of bed at 5 a.m. with the pros and cons of a particular place weighing heavy on my brain—I've come up with my annual list of where you should be dining right now. As per usual, this is technically two separate lists, as we're a tale of two counties—and the honorable mentions this year should make your itinerary, too. Your belly won't have any regrets.
Collier County
The Claw Bar
221 Ninth St. S., Naples, 239-231-3912, theclawbar.com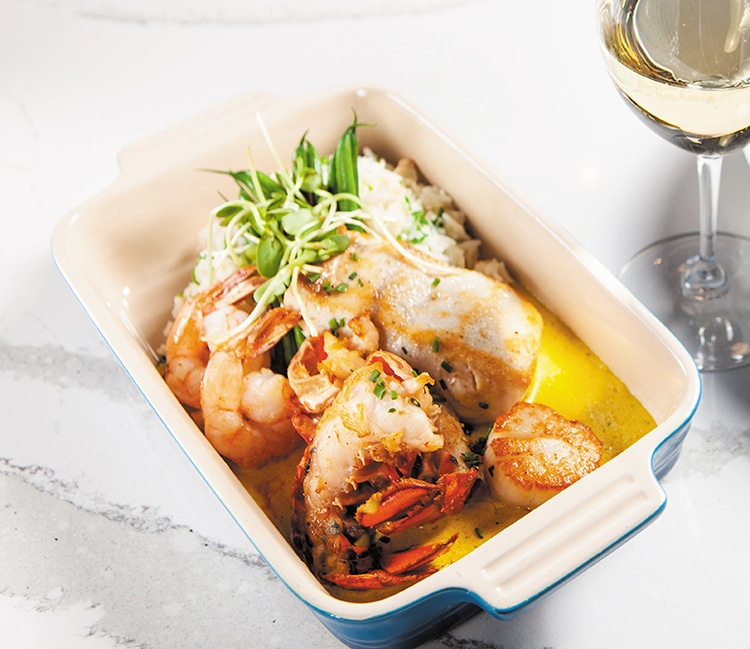 For loyal readers of this magazine, you no doubt know my fan-girl affection for The Bay House, that quintessential Southern belle of genteel Lowcountry cooking nestled in Naples' verdant mangroves.
So when the chef  headed downtown to open a fraternal twin, a shining black and gold edifice lodged in Bellasera Resort, my heart skipped a beat.
It's a Bay House 2.0 experience, with the classics making the cut—butter-soaked lobster "potholes," coastal pan roasts and the sent-from-heaven Nashville chicken, a juicy hot-sauce-slicked breast on a bed of savoy cabbage sweetened by a honey gastrique. Chef Andy Hunter, of course, has added some proprietary dishes, including an excellent chipotle roasted lobster tail, his version of oysters Rockefeller with Parmesan and Pernod, and cilantro- and basil-studded street corn.
A huge upgrade is that, because of its perch in a hotel, it's open daily for lunch—not to mention, the tables outside overlook a pretty pool. The exceptionalism extends to cocktails and desserts, too. I celebrated my birthday there shortly after it opened and was giddy seeing the "Birthday Cake" on the menu, a scrumptious tiered confection of cream cheese frosting, white cake and festive sprinkles that I'd recommend to anyone on any day of the year.
Dorona
2110 Ninth St. N., Naples, 239-529-2819, doronanaples.com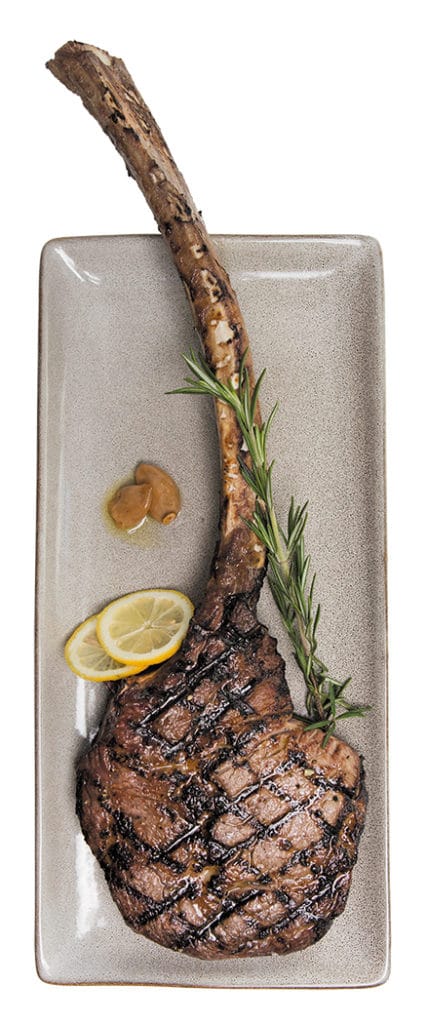 My husband and I had already become semi-regulars at this Aielli Group restaurant by the time we innocently called to see if the kitchen was still in swing on a random September Tuesday at 9:30 p.m., otherwise known as deadsville in restaurantland.
What happened cemented it as one of our favorites in town. Not knowing who was on the other end, the manager said, "We'll keep the restaurant open for you. We want to be here for regulars—we want you to know we care."
By the time the clink of our prosecco glasses echoed throughout the Venetian glass chandelier-bedecked dining room it was close to 10—but rather than be rushed, we were given the ultimate private dining experience.
We shouldn't have been surprised, knowing who was behind the steering wheel: the dynamic and philanthropic couple Fabrizio and Ingrid Aielli, who have had major success with Sea Salt and Barbatella on Third Street South. Although Dorona is what they're calling their modern Italian steakhouse, it is so much more than phenomenal cuts of premium meat (and a mashed potato churned with burrata and rosemary that I'd give my right arm for).
There's also a burrata-topped breaded pork chop with an heirloom tomato salad, salmon
that's seared to a perfect crisp and perched on a pea-flecked al dente cavatelli, and cheeses so fresh they taste like what we ate throughout Italy.
Each dish has been memorable and left me craving more—and with customer service the Aielli way, there's every reason to keep coming back.
Sails Restaurant
301 Fifth Ave. S., Naples, 239-360-2000, sailsrestaurants.com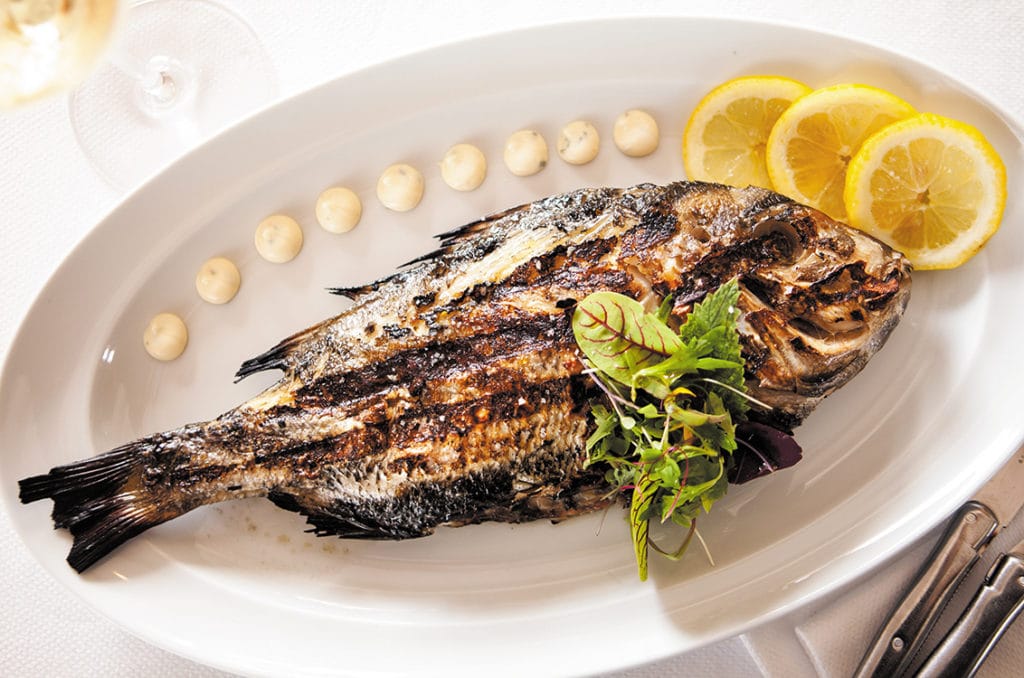 On the corner where two of Naples' toniest thoroughfares intersect sits this sumptuous ode to fine dining designed to appeal to the jet-setters with mega-mansions in Port Royal. But that doesn't—and shouldn't—mean it is not for you, too.
The Old World elegance is par excellence: all class, all the way. Even though I judge restaurants on their craft cocktails, I kind of love how there's no cocktail list here—it's as if you're to order a Glenmorangie neat or a martini shaken, not stirred, just like a suave someone would in a movie.
I've been comforted lately that online grumbles about the prices have been replaced by applause for both the exacting service and the culinary feats. It's either people have finally caught on or the kitchen has hit its stride—or a sprinkle of both.
The jewel of the Sails experience is its miniature sea on ice, where you hand-select from the day's global bounty. Prices are by weight, so be smart—ask how heavy that $58/pound wild-caught turbot is from the Spanish Mediterranean, and they'll gladly tell you. It's then in your court to decide if one of the menu's plated entrées is a safer bet, like the Acquerello risotto with exotic shellfish and a hint of citrus for $46. Speaking of fixed costs, the various crudos and tartares are under $22—each a work of art, exploding with fireworks of color and taste.
New for this season is lunch service with live jazz Thursday to Sunday, as are special events, like a Champagne dinner held in November to celebrate the 200th anniversary of Billecart-Salmon, giving visitors the push to float into this opulent seafood palace.
Namba Ramen & Sushi
8847 Tamiami Trail N., Naples, 239-592-4992, nambanaples.com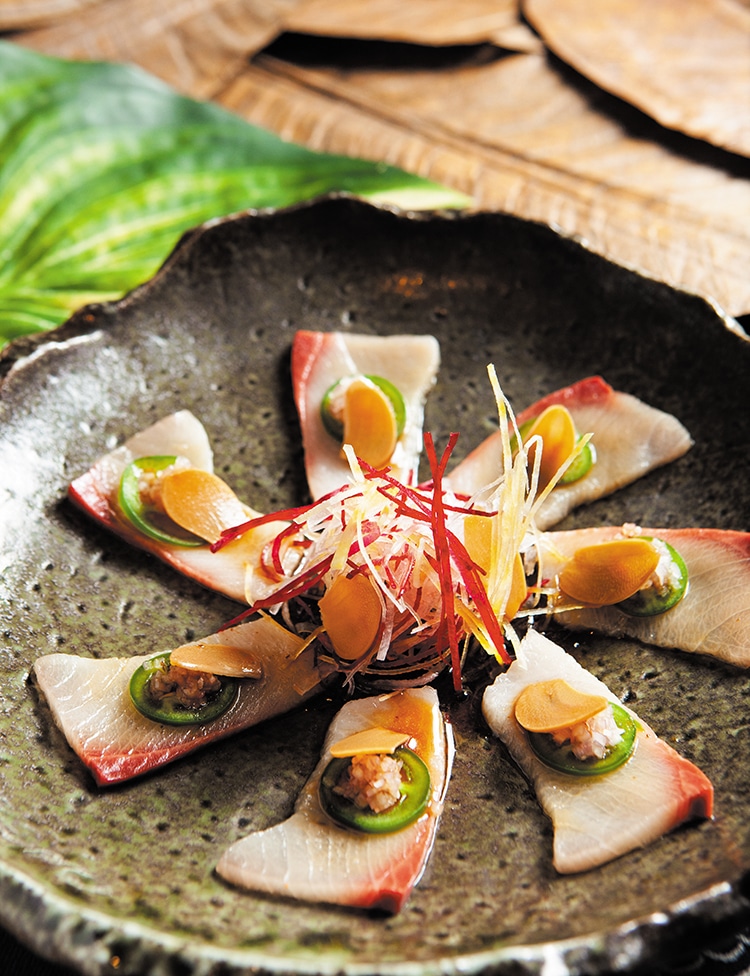 If this Japanese noodle house and sushi bar could have permanently reserved seats, I'd be the first to line up and get my name etched. (I'm there on average once every other week, so why not make it official?)
But I found that when I would describe how obsessed I am with the soupy silky nests at the heart of what this tiny eatery does, I'd use a qualifier: "If you like salty ramen, you have to go there." Recently, though, a friend and fellow transplant from Manhattan rightly reminded me, "Dorothea, what kind of ramen is it if it's not salty?"
I felt liberated—that nothing needed to be couched in the context of Florida heat and health fanaticism, especially not a dish as good as this one. While my go-to is still the beef Hayashi, there are several broths and customizable toppings, like duck that's been steamed for three hours and finished in a smoker and sautéed wood ear mushrooms (among the many vegan-friendly).
Because of a carefully controlled strategy, the team here started small and has added new items at a crawl, but to great effect. True sushi connoisseurs—those who recognize rolls are about the quality of the fish and not zigzags of mystery sauce on top—are comforted knowing the never-frozen protein is flown in from the Pacific and kept only a couple of days max. There are also a handful of other items that wow—shareable plates of beautifully blistered shishito peppers, delicate wagyu gyoza dumplings and a five-hour-braised octopus.
Saying the menu is limited is an understatement, but it also misses the point: Once you've hit perfection, there's no need to overreach.
Kareem's Lebanese Kitchen
4270 Tamiami Trail E., Naples, 239-315-4167, kareemskitchen.com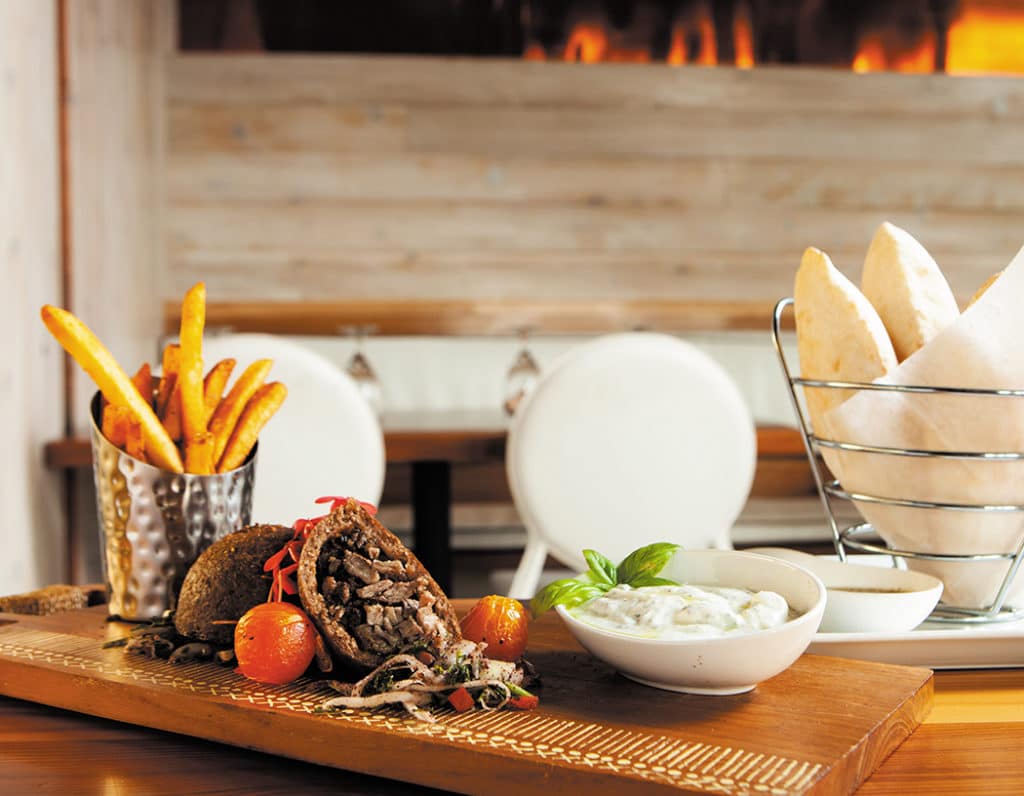 Everything about this intimate bistro—from the copper accents and pink-tinged orchids to a menu that has its fair share of trusted flavors in addition to ones that push the envelope—strikes the right balance between authentic and innovative.
It wouldn't be hyperbole to say I've found chef Rachid Eido's hummus life-changing. The whipped concoction takes on an almost creamy texture and has absolutely ruined my go-to grocery store snack. He also expanded my horizons on how it can move beyond a simple dip, diving into sea-parting levels of deliciousness with his "favorite signature" hummus trio: There, his original Beiruti recipe is topped by crumbles of ground beef and pine nuts; a harissa-spiked variety is tamed by chunks of feta and tomato; and, finally, his garlic version (my favorite) is capped with chicken shawarma.
You could do as they would in the Mediterranean and make a meal of the mezze, but that's underselling how good the main attractions are. I could eat the fatteh lamb, a haystack of shaved halal meat with dense yogurt and juice-filled pomegranate seeds, till I turn blue in the face or my stomach reaches capacity, whichever comes first.
There is also a healthy friendship between chef Eido and his neighbor in the same East Trail plaza, chef Asif Syed of the highly regarded 21 Spices—and that continues to produce intriguing collaborations, such as an occasional vegan lunch buffet showcasing the cuisine from both.